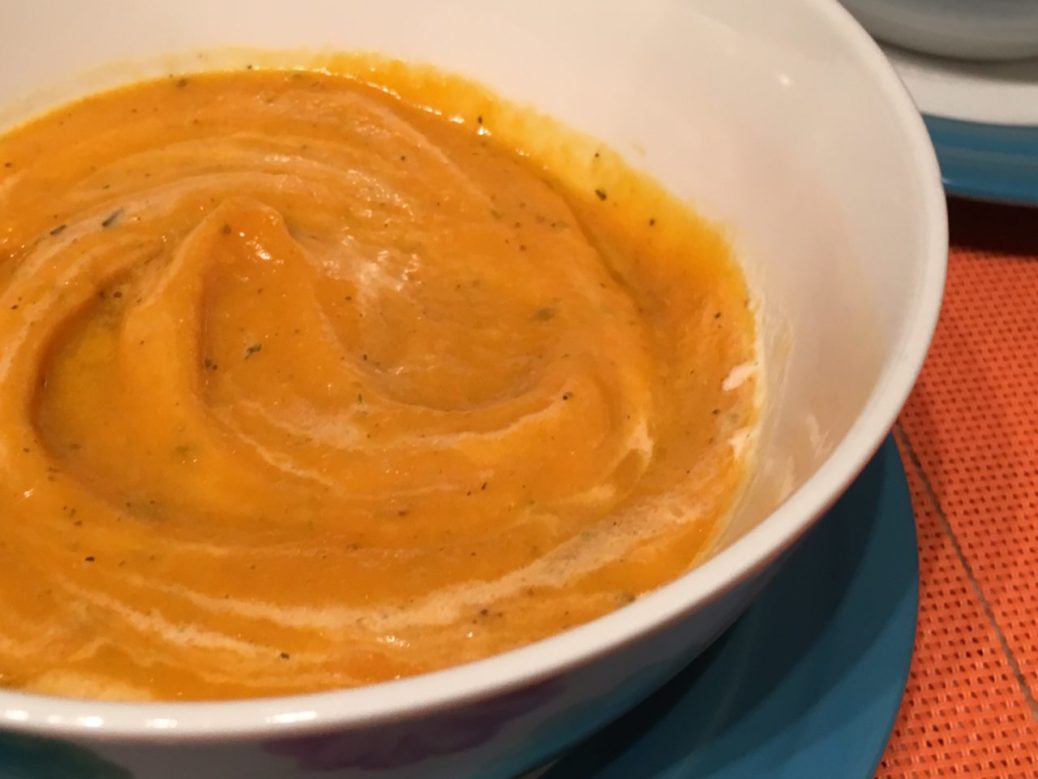 After vacationing for 5 weeks in the Palm Springs area, getting back to cold, damp, grey, rainy weather is no fun! It took almost a week for us to get adjusted because we dropped about 30º Celsius in temperature… One recipe that I've made a lot upon our return was soup. It is a great way to warm up your body. It is something I like to have around especially during the coldest months of the year!

With Thanksgiving and the Holidays around the corner, people tend to entertain more at home therefore getting stuck with lots of leftovers. One of the things we have often is mashed potatoes. Of course they can be reheated but a great thing about leftovers is they can also be re-used in other recipes…

Now back to soups!

I have made my Carrot Soup recipe for decades now and it was only last year that I made a big change to the recipe… I added some of my Mixed Mashed Potato leftovers to it. Although I always thought the soup tasted amazingly good, the added ingredient made it even better!

Before I switched to using leftovers, I used to add raw russet potatoes cut into small cubes to the soup mixture and then proceed with the recipe. Starch is a big component as it helps thicken the soup. Now by using mashed, it makes things go faster and even more flavorful…

For some of you who are not familiar with my Mixed Mashed Potato recipe, I use 2 kinds of potatoes. If you want to find out more about it, click on this link – Mixed Mashed Potatoes. Let's keep in mind that I've incorporated my Mixed Mashed Potato recipe here therefore if you are using another mashed potato recipe, your soup will definitely taste different than mine!

You can try it with my mashed recipe or stick to yours but whichever one you use, this is a great Carrot Soup recipe to have around. Another ingredient I like to add is heavy cream… just a little… not too much! Using a spoon, I gently stir it in the soup. It's visually cute and adds that subtle "touch" to it. I usually place a small bouquet of parsley on top but I didn't feel like going to the supermarket… it's too cold!!!
Bon Appétit!

FOOTNOTE: I am using the leftovers of my Mixed Mashed Potatoes recipe but if you are using your own, the taste of the soup might be slightly different. Of course I highly suggested that you use my mashed recipe.
Carrot Soup with Mashed Potatoes
With a beautiful mix of spices and fresh ingredients, not only is this soup absolutely fabulous but you can also use up your mashed potato leftovers... awesome isn't it!